A Home Run of Summertime Learning
By Ann Thelen
Taking in an Iowa Cubs baseball game on a sunny afternoon, grilling tender and juicy Iowa-raised pork chops or gardening lush vegetables are all synonymous with summertime activities in Iowa!
The Iowa Food & Family Project's (Iowa FFP) Food U event explored the food and agriculture behind a variety of summertime activities on a warm and toasty Friday in July. Part of an exclusive program for Iowa FFP Champions, 25 Iowans participated in the daylong adventure.
"Food U gives food-minded Iowans hands-on learning opportunities across a variety of sectors in the farm-to-table chain," says Kelly Visser, consumer engagement manager for the Iowa Soybean Association and Iowa FFP.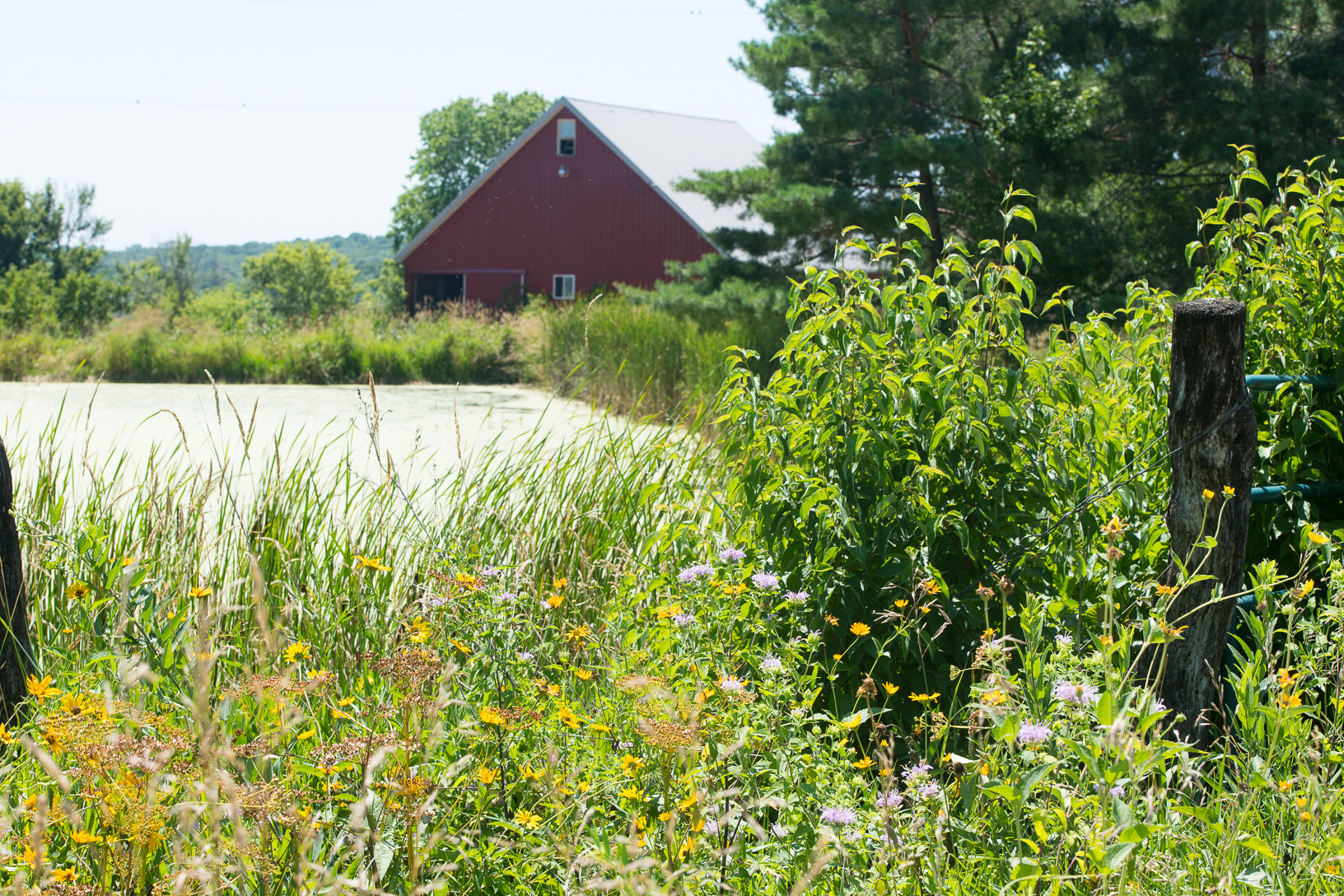 Please note, by clicking the links you will be leaving a partially funded checkoff site.
Hitting a Home Run with the Iowa Cubs
The first stop of the tour took participants to Principal Park in Des Moines. The stadium is home to the Iowa Cubs, a Minor League Baseball team of the Pacific Coast League and the Triple-A affiliate of the Chicago Cubs.
From April to September each year, the 11,500-seat stadium fills with baseball enthusiasts, students, businesses and families. They're not only hungry for a home team win – they're hungry for iconic game day concessions! For every 1,000 game attendees, the concessions team has the food projections down to a science.
"Based on attendance estimates, we know how many hot dogs, pretzels, burgers or sandwiches fans will buy during the game," says Jeremy Armison, Centerplate concessions manager for the Iowa Cubs.
Centerplate, a concession company that works with a variety of sports venues across the U.S., manages the park's concession stands, picnics and skybox catering. Although the company serves a national network, it works closely with the team at Principal Park to offer local concessions options, including Berkwood Farms, Stu's BBQ and locally brewed beers.
"All of our tenderloins sold at the Hot Corner stand come from Des Moines-based Berkwood Farms," Armison says. "We also work with 12 to 13 Iowa breweries to offer a true Iowa grassroots food experience at the ballpark."
Berkwood Farms is a coalition of more than 60 independent family farmers. Through a philosophy of quality first, they are one of the largest American suppliers of 100% certified pure heirloom Berkshire pork and the only farmer-owned company with national distribution. Many of the farmers are the second, third, fourth, and in some cases, the fifth generation of their family to be engaged in animal husbandry.
Berkshire Pork is the oldest breed of pork in existence today and raised for the meat's distinctive color and marbling – two traits that hit a home run for making the pork tender, juicy and flavorful every time it's on the plate.
Principal Park is also home to the iconic Cub Club restaurant, which was constructed in the winter of 1982. The building's initial intention was part of an overall upgrade to, then, Sec Taylor Stadium. The Chicago Cubs had signed an affiliation agreement with the Iowa Oaks in 1981 (changed to the Iowa Cubs in 1982) and requested that upgrades be made to the facility to better accommodate the Cub's prospects coming through Des Moines on their way to Chicago.
Designs and ideas came together for the "hospitality area" and quickly evolved into a small restaurant setting, which is open to the public for breakfast and lunch year-round. The original building was the only part of the stadium that was not demolished in a rebuilding project in 1991. In fact, most of the original building is still intact with the restaurant even the same size today as it was when constructed in 1982.
John Rodgers, an Iowa Cubs account executive, enthusiastically led the group through a tour of the facilities, including visits to the press box, dugout, suites and locker room. Food U participants learned the "ins and outs" of what makes the stadium a summertime hit for baseball lovers.
"We strive to have a family-oriented experience that is safe, clean and fun," he explains. "From fireworks after Friday night home games to Iowa grown and raised food to hosting major league baseball stars and letting kids run the bases, we have something for everyone."
Fun facts about the home field for the Iowa Cubs:
Principal Park reached a 15-million-visitor milestone in 2014

Principal Park was formerly named "Sec Taylor Stadium" after a sports editor with The Des Moines Register

16 former Iowa Cubs players were on the roster for the Chicago Cubs in the 2016 World Series

Principal Park hosts about 70 Iowa Cubs home games each season
Cooking with Iowa Pork
Whether it's a pork chop on-a-stick at the Iowa State Fair or a spiral ham during the holidays, pork is a tasty, versatile and affordable protein that can easily be incorporated into every family's mealtime routine.
At the Des Moines Social Club's Culinary Loft, participants rolled up their sleeves, measured ingredients and cooked up several delicious recipes that put pork on the fork. Featured recipes included Pork Loin Stir Fry, Pork Chops – cooked to 145 and 160 degrees F, Garlic & Bacon Cream Smothered Pork Chops and Breaded Pork Loin Strips.
Joyce Hoppes, consumer information director for the Iowa Pork Producers Association (IPPA), used a 10-pound pork tenderloin that was purchased for $20 to show the group how it could be cut into a variety of cuts to make all the items on the day's menu. Participants were pleasantly surprised at the versatility and affordability of the lean, protein-rich pork cut.
Pork can be safely cooked to medium rare at a final internal cooked temperature of 145 degrees F (as measured by a thermometer) followed by a 3-minute rest time. Ground pork, like all ground meats, should be cooked to 160 degrees F.
"I learned a lot about the proper cooking temperature of pork and the taste differences between cooking it to different temperatures," says Teresa Farrell, an Iowa FFP Champion and communications specialist from Ankeny.
Fellow Iowa FFP Champion and educator Tracy Leith from Urbandale echoed those same sentiments.
"The pork cooking demonstration was amazing," she says. "I had no idea how easy it was to buy, prepare and cook great tasting dishes using pork. It took the mystery out of it and made it more appealing to add to our family's food choices."
Fun facts about Iowa's pork industry:
Iowa has more than 6,000 pig farms

Nearly one-third of the nation's hogs are raised in Iowa

One in 12 working Iowans has a job tied to the pork industry

One pig consumes 9 to 10 bushels of corn and 100 pounds of soybean meal in its lifetime
Seeing Stewardship in Action at Coyote Run Farm
Coyote Run Farm is a small family farm that grows nearly two acres of vegetables, fruits and herbs. Matt Russell and Patrick Standley purchased the 110-acre farm in rural Lacona in January 2005. The property was an intact farm from the 1930s, but the land and buildings needed care and investment to become a modern and profitable agricultural enterprise.
They focus on heirloom and unique varieties of seasonal produce from March through November, starting with spinach and ending with brussel sprouts. The farm occasionally sells produce at the Des Moines Downtown Farmers Market and delivers pre-ordered products to customers in central Iowa all year.
"We grow 40 to 50 varieties of heirloom tomatoes and sell them in various ways," Russell explains. "For example, during the five- to 10-week season, a popular downtown Des Moines restaurant and bakery buys 50 to 70 pounds of tomatoes a week from our farm."
All the tomatoes on the farm are started from seeds, purchased from Seed Savers Exchange in Decorah. Seed Savers collects, stores and regenerates the seeds of thousands of rare, heirloom and open-pollinated varieties at its Heritage Farm headquarters so the seeds of these varieties don't disappear.
Since purchasing the farm, Russell and Standley have restored the property's original barn, transitioned a garage into a greenhouse and built a high tunnel to extend the produce growing season. They have also leveraged federal conservation programs to transition acres of land into wildlife habitat and pasture.
Stewardship of the land and quality for customers are the two key priorities for Coyote Run Farm.
"Farmers take such incredible care of their land and find the most creative ways to reduce food waste, utilize resources and ensure sustainable operations. Environmental care, animal care and food quality are always their top priorities," says Emily Shearer, an Iowa FFP Champion from Des Moines and food acquisition coordinator for the Food Bank of Iowa.
"During Food U events, I like hearing from different farmers on their best practices, because they're not always the same. Hearing the owners of Coyote Run Farms talk about how weeds – for them – are a cover crop, is not something I had heard before."
Apply to be an Iowa FFP Champion!
Are you interested in attending a future Food U event or furthering your understanding of agriculture? Apply to be a member of the Iowa FFP Champions Program.
Iowa FFP Champions are volunteer participants representing a variety of industries and occupations including healthcare, food banks, administrative services, engineering, communications and education. If you're selected, you'll be invited to Food U events, get priority access to speaking engagements, participate in surveys and focus groups, and receive a quarterly newsletter.