Iowa State Fair Fun
By Joseph L. Murphy, Iowa Soybean Association
How do I love thee? Let me count the ways – Scotch eggs, outhouse races, cow chips, late-night snacks on the midway, milking cows, Sizzler fun, pork chops on a stick, horses to pet and mutton busting.
And that's just the tip of the record-breaking, 1.17-million-people iceberg called the Iowa State Fair.
The images below are some of the fun as seen at the 2019 Iowa State Fair.
A trail of dust blows through the ring as a boy tries his hand at the Wool Riders Only Mutton Bustin' competition at the Iowa State Fair. Photo credit: Joseph L. Murphy/Iowa Soybean Association
Thrill rides light the midway on the final night of the Iowa State Fair. Photo credit: Joseph L. Murphy/Iowa Soybean Association
Shon Clausen, Des Moines, gives his granddaughter Rylee a ride on his shoulders while they wait for a corn dog on during the last night of the Iowa State Fair. Photo credit: Joseph L. Murphy/Iowa Soybean Association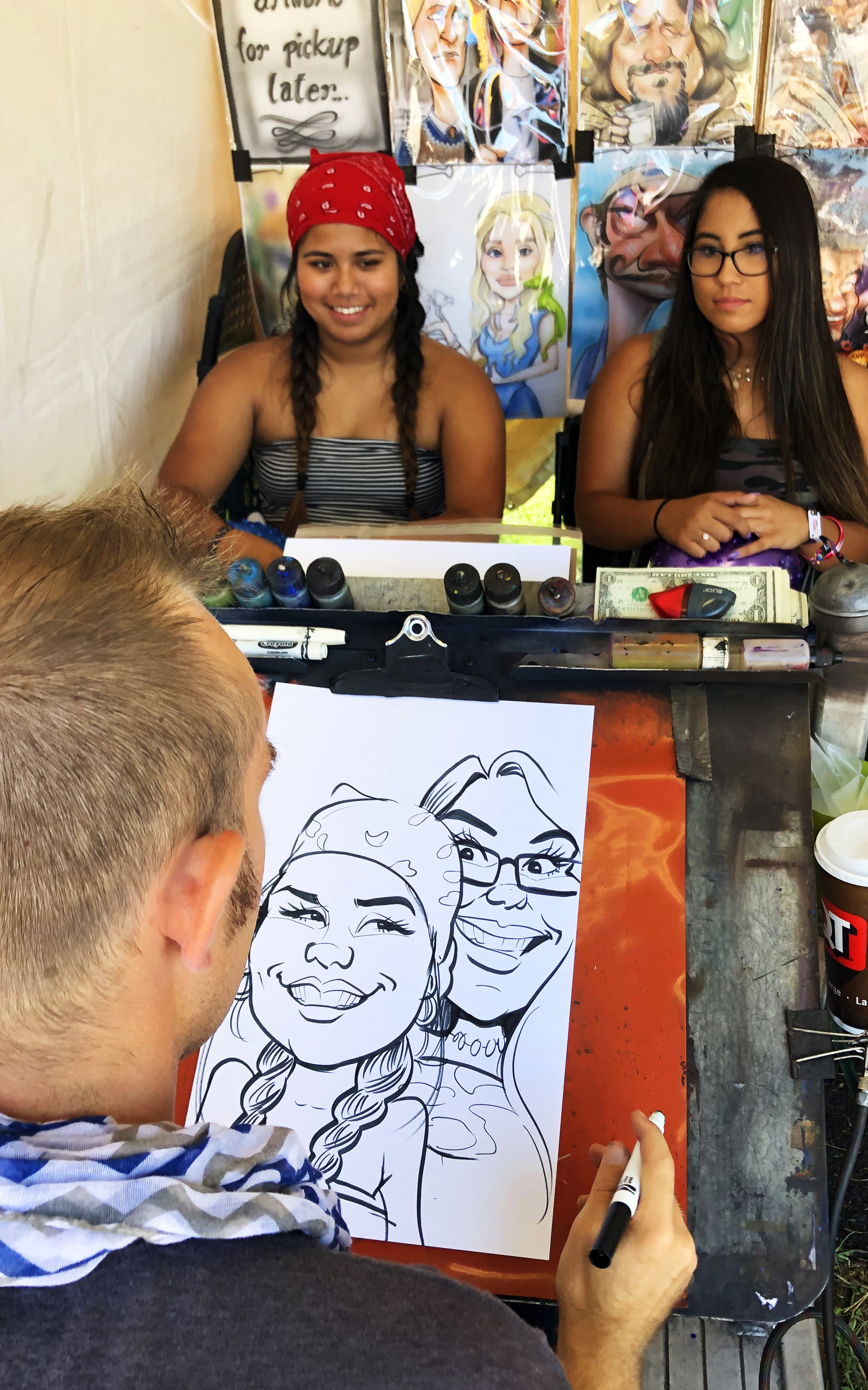 Elica and Anesa Noa pose for a character drawing by Antwan Ramar during the Iowa State Fair. Photo credit: Joseph L. Murphy/Iowa Soybean Association
Blake Reynolds, Earlham, scratches his goat's neck while waiting for a decision from the judge in the Open Goat Show. Photo credit: Joseph L. Murphy/Iowa Soybean Association
Kelly Visser helps a young fairgoer spin the wheel of trivia at the Iowa Food & Family Project exhibit in the Varied Industries Building. Photo credit: Joseph L. Murphy/Iowa Soybean Association
Mike Wimer, a Livestock Control Officer, helps guide traffic during move-in day at the livestock barns. Photo credit: Joseph L. Murphy/Iowa Soybean Association
The Sizzler provides smiles to two fairgoers on the midway. Photo credit: Joseph L. Murphy/Iowa Soybean Association
Megan Denny, Blair, Nebraska, gives Loudbridge Louis the Shire draft horse a bath before a show at the Iowa State Fair. Photo credit: Joseph L. Murphy/Iowa Soybean Association
Mary Sansevere, Buffalo, Minnesota, takes a photo of Terminator the miniature horse while bathing him. Photo credit: Joseph L. Murphy/Iowa Soybean Association
August the Dalmatian watches the crowd from atop of the Budweiser wagon during a parade through the Iowa State Fairgrounds. Photo credit: Joseph L. Murphy/Iowa Soybean Association
Photo credit: Joseph L. Murphy/Iowa Soybean Association
Caden Matthias of Fairbanks pets the nose of Mike Wimer's horse at the Iowa State Fair. Photo credit: Joseph L. Murphy/Iowa Soybean Association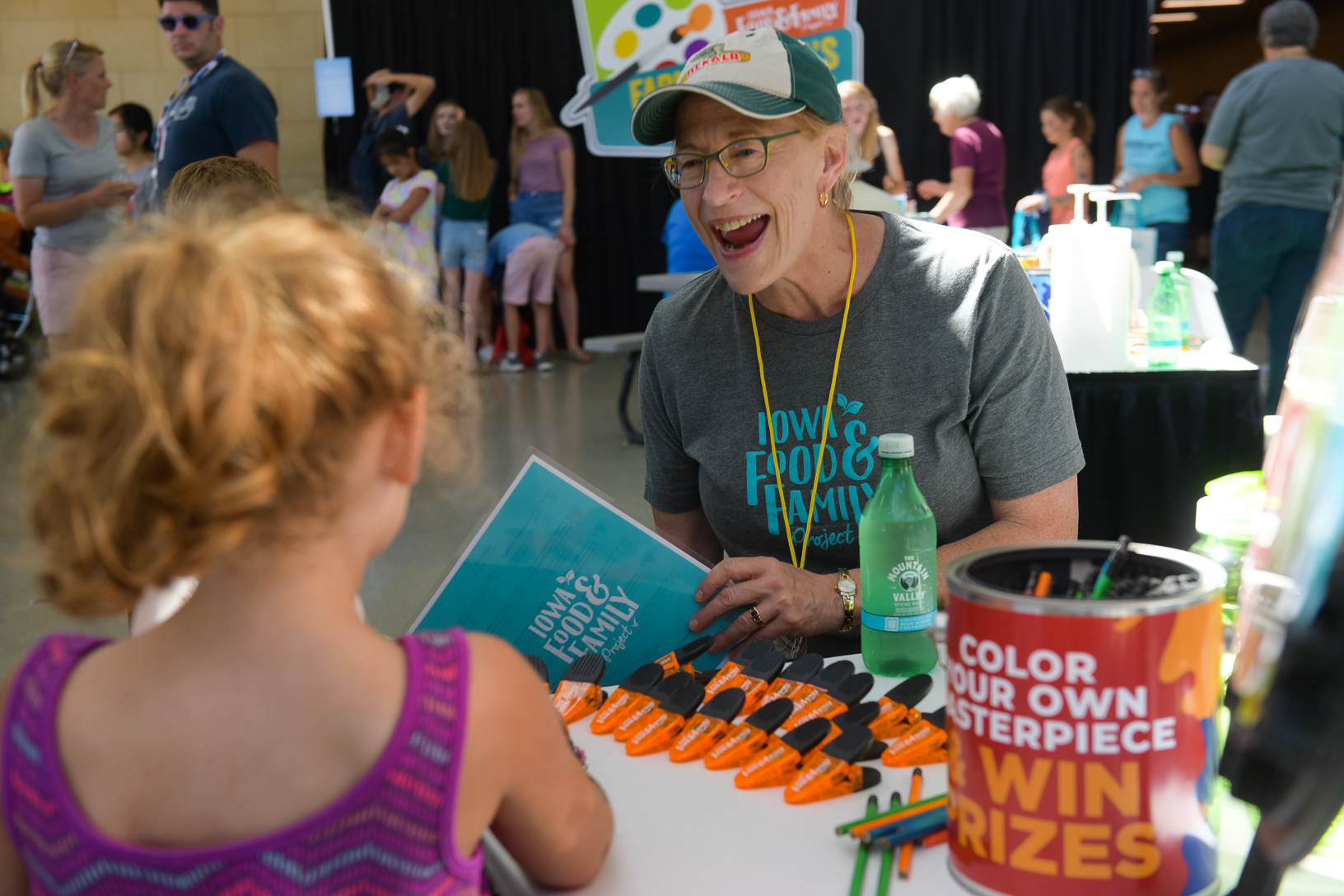 Mindy Whittle smiles after hearing a correct answer from the wheel of trivia at the Iowa Food & Family Project exhibit at the Iowa State Fair. Photo credit: Joseph L. Murphy/Iowa Soybean Association
A team competes in the outhouse race on the Grand Concourse of the Iowa State Fair. The outhouse race is where teams create home-made outhouses on wheels and compete in a relay race. Photo credit: Joseph L. Murphy/Iowa Soybean Association
Dave Moses, of team Space Balls, tries to thread a roll of toilet paper onto a toilet paper holder during the Outhouse Race at the Iowa State Fair. Photo credit: Joseph L. Murphy/Iowa Soybean Association
Lucia Ruppert looks through slop for a corn cob while competing in the Outhouse Race at the Iowa State Fair. Photo credit: Joseph L. Murphy/Iowa Soybean Association
A team competes in the Outhouse Race at the Iowa State Fair while a large crowd watches on the Grand Concourse. Photo credit: Joseph L. Murphy/Iowa Soybean Association
Paul Yeager of Iowa Public Television prepares to launch a cow chip during the Cow Chip Throwing competition at the Iowa State Fair. Photo credit: Joseph L. Murphy/Iowa Soybean Association
Jackie Schmillen competes in the VIP Cow Chip Throwing Contest at the Iowa State Fair. Photo credit: Joseph L. Murphy/Iowa Soybean Association
A contestant holds a cow chip while watching others compete in the Cow Chip Throwing Contest at the Iowa State Fair. Photo credit: Joseph L. Murphy/Iowa Soybean Association
The Iowa State Fair attendance set a record of 1.17 million people. Photo credit: Joseph L. Murphy/Iowa Soybean Association
A girl keeps a firm grasp of sheep wool while competing in the Wool Riders Only Mutton Bustin' competition. Photo credit: Joseph L. Murphy/Iowa Soybean Association
Aspen Fenton competes in the Iowa State Fair whistling contest at Pioneer Hall. Photo credit: Joseph L. Murphy/Iowa Soybean Association
A man competes in the whistling contest at the Iowa State Fair. Photo credit: Joseph L. Murphy/Iowa Soybean Association
Sam McKinney of Colo relaxes with his pig Steve during the Bacon Buddies show at the Iowa State Fair. Bacon Buddies is a showmanship contest that allows Special Olympics athletes to pair with other youth to show pigs in the ring. Photo credit: Joseph L. Murphy/Iowa Soybean Association
Josie Young, an Iowa State University Dairy Science Club student, smiles as Aleeri learns how to milk a cow at the Iowa State Fair. Photo credit: Joseph L. Murphy/Iowa Soybean Association
Chase Trotter wipes water from his face as Trinity Smith and Caydance Smith cool off in a demonstration pool on the grounds of the Iowa State Fair. Photo credit: Joseph L. Murphy/Iowa Soybean Association
Emily Roberts, Tri-County FFA, holds a tray of salads featuring Iowa beef during the Farm to Fair dinner at the Iowa State Fair. The Machine Shed catered the meal for dinner. Photo credit: Joseph L. Murphy/Iowa Soybean Association
500 fairgoers — 400 consumers and 100 farmers — gathered for the second Farm to Fair event at the Iowa State Fair last week. Sponsored by agricultural commodity associations — including ISA — the event aims to connect farmers and consumers and foster positive conversation about agriculture. As each table was served dished featuring Iowa's agriculture commodities, farmers and consumers dove into a wide range of conversations. Read more about the event: bit.ly/FarmToFair. Photo credit: Joseph L. Murphy/Iowa Soybean Association
A goat looks for attention as fairgoers visit the livestock barns at the Iowa State Fair. Photo credit: Joseph L. Murphy/Iowa Soybean Association
Goats and belt buckles filled the showing on the last day of the Iowa State Fair. Photo credit: Joseph L. Murphy/Iowa Soybean Association