Iowa State Fair Moments
By Kelly Visser, Iowa Food & Family Project
There's something magical about the Iowa State Fair. The sweet summertime air is filled with a perfect mixture of pride and moments that will become memories.
Whether those moments were soaking in sunsets from the sky glider, ogling over blue ribbon award winners or taking the first bite of something on-a-stick – there was no shortage of iconic Iowa State Fair moments for the record-breaking 1,130,260 fairgoers.
Moments with the Iowa Food & Family Project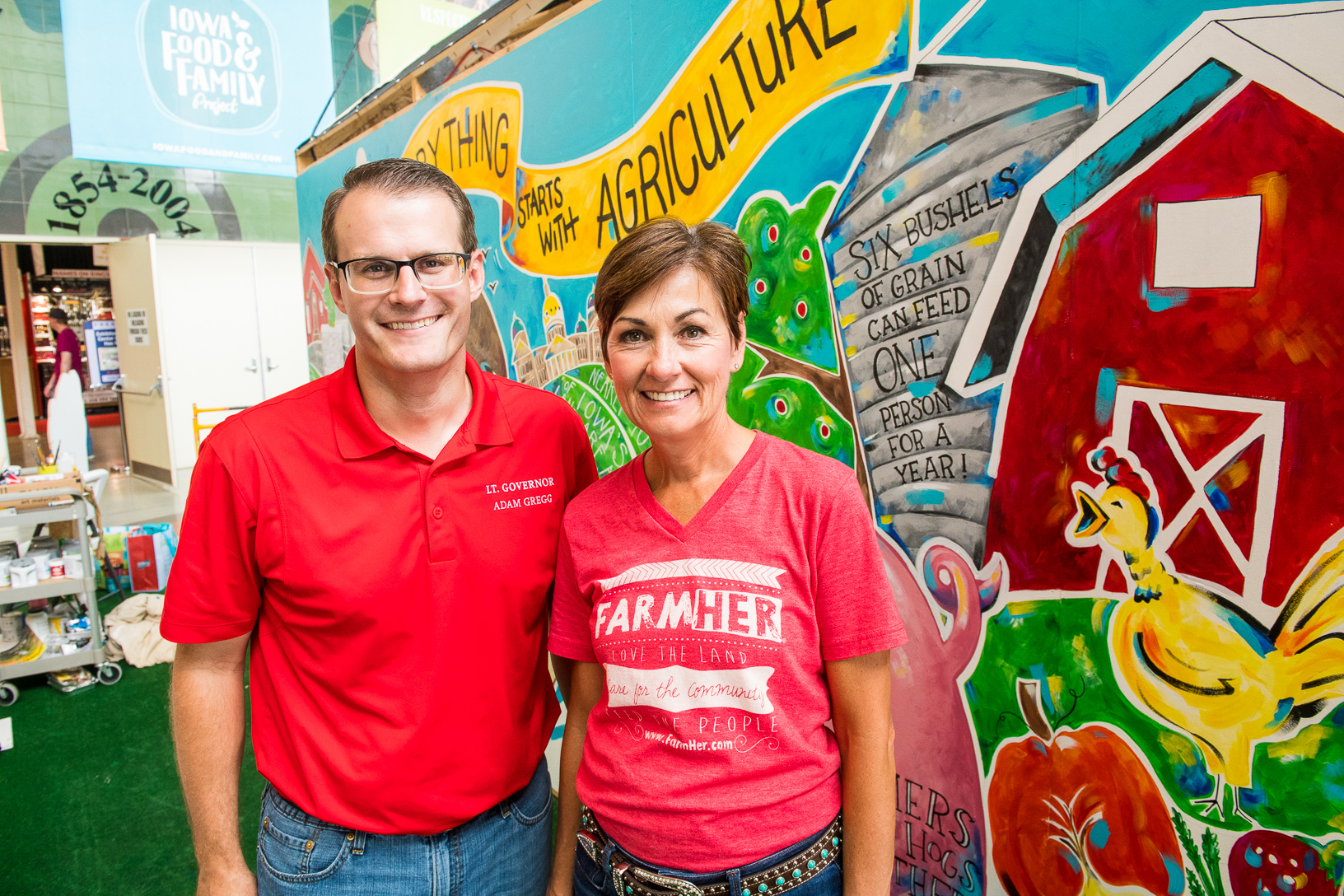 During the 11-day event, more than 450 volunteers welcomed 40,000 fairgoers to the Iowa Food & Family Project's (Iowa FFP) interactive barn-in-home display in the South Atrium of the Varied Industries Building. The exhibit offered opportunities for fairgoers to learn about agriculture, food production and farm families in Iowa.
"I don't have a farming background, but I appreciate the work Iowa Food & Family Project is doing. I was excited to volunteer so I could share information about where the food we buy and eat comes from," says Julie Heineman Kohles, a volunteer and member of the Iowa FFP Champions Program from Johnston. It was fun to see the surprise on people's faces when they learned dairy cows produce 9 gallons of milk each day- or that 97 percent of farms are family-owned and operated."
Through activities at the display, Iowa FFP gained more than 6,000 new Facebook followers, reaching 29,266 "Likes;" and more than 4,000 new Fresh Pickings newsletter subscribers, reaching a total audience of 77,000 each month.
Beyond the trivia, "Follow A Farmer" activity and handouts, fairgoers had the opportunity to interact with farmer volunteers throughout the week.
"I enjoy volunteering because it gives me a chance to talk with consumers who have questions or misconceptions about agriculture," says Randy Miller, who raises soybeans, corn, hay, pigs and has a cow-calf operation in Lacona. "If farmers aren't out in the public telling our story, someone else will but it may not be factual and in keeping with our values."
Fairgoers visiting Iowa FFP's barn-in-home display soaked in the creative process of a bright, whimsical mural being painted throughout the fair. Created around an "Everything Starts with Agriculture" concept, the mural quickly became a photo backdrop for many fairgoers and the creative outlet for celebrity guest painters, including Governor Kim Reynolds, Iowa Secretary of Agriculture Mike Naig, Chuck Long, and beloved university mascots Cy and Herky.
Whether it was answering a trivia question, taking home a tote bag or having a conversation with an Iowa farmer, experiences at the Iowa FFP exhibit were part of the many Iowa State Fair moments that became wonderful memories to last a lifetime!