Food U
An exclusive dive into agriculture and food production.
Food U gives Iowa Food & Family Project (Iowa FFP) Champions an exclusive opportunity to dive into learning about agriculture and food production in Iowa.
The daylong event series encourages open and honest conversations with a variety of experts in agriculture, food and restaurant industries. From research centers to restaurant kitchens, each stop on a Food U tour is focused on expanding perspectives and exploring the how food goes from Iowa farms to your table
Interested in attending a future Food U event or furthering your understanding of agriculture through Iowa FFP? Apply to be a member of our Champions Program. As a Champion, you'll be invited to Food U events, get priority access to speaking engagements, participate in surveys and focus groups, and receive a quarterly newsletter.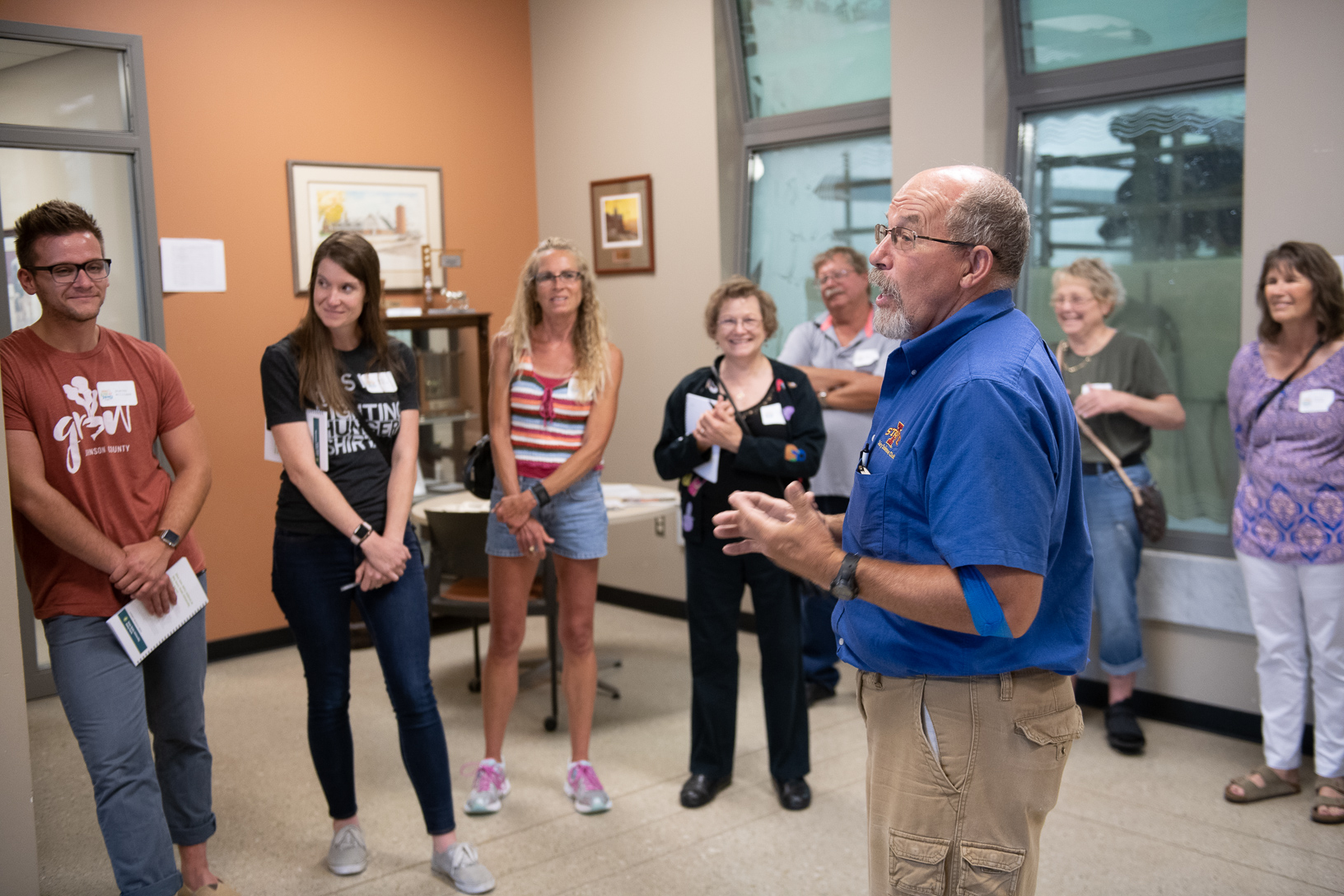 Participant Reviews
"Food U was an amazing experience. I was able to see – firsthand – the significant work, and incredible impact, Iowa farmers make across the globe. Whether it was learning about how advancements in equipment technology help farmers access their farm's processes right from their cell phones; getting a private tour through the kitchen of a local restaurant cooking locally sourced food; or seeing milk get made – from start to finish, Food U gave a great insight into the work being done all over our state. Regardless of your level of knowledge about food and farming, there was truly something for everyone." - Emily Shearer, Food Acquisition Coordinator, Food Bank of Iowa and Iowa FFP Champion

"It is so important to know where our food is coming from. Going on Iowa FFP's tours gives me a great insight into where our food comes from and how it is cared for." - Andrea Love, Personal Chef, Dinner Delights and Iowa FFP Champion
Highlights from Food U - July 2019
Taking in an Iowa Cubs baseball game on a sunny afternoon, grilling tender and juicy Iowa-raised pork chops or gardening lush vegetables are all synonymous with summertime activities in Iowa! The July Food U event explored the food and agriculture behind a variety of summertime activities. Find highlights here.
Highlights from Food U - May 2019
Whether it's sizzling burgers on the grill at the neighborhood cookout, hearty scrambled eggs on a sunny Sunday morning or a fresh sub sandwich on a family road trip, food sets the stage for springtime fun. The day-long May Food U tour visited Rose Acre Farms in Guthrie Center and Rowe's Red Cows in Lorimor. Find highlights here.
Highlights from Food U - November 2018
What do Christmas trees, turkeys and cover crops all have in common? Beyond their natural ties to Iowa's agriculture economy, they were the topic of the third Food U event. The day-long tour made stops at Walnut Ridge Tree farm in Indianola and Cristen Clark's home in Runnells for conversations about cover crops and turkey talk. Find highlights here.
Highlights from Food U - September 2018
On a warm fall day in September, fifteen food-minded consumers explored the central Iowa countryside to learn about growing apples, raising pigs and what it takes to run a successful local grocery store. The tour made stops at Center Grove Orchard in Cambridge, Dave Struthers' pig farm in Collins and Brick Street Market in Bondurant. Find highlights here.
Highlights from Food U - June 2018
During the inaugural Food U event, participants learned about the cutting-edge technology used in modern crop production and visited a dairy farm to see how the milk goes from farm to fridge. Guests also enjoyed lunch at Jethro's BBQ and a kitchen tour with Chef Dominic Innarelli. Find highlights here.